To view this item you will need to be a member of The Tree Register.
To do so please sign up to become a member here
Once completed you will receive a password to access and view special, regularly updated pages, within a Members Only area on The Tree Register Web Site.
Membership benefits:
Access to the Champion Tree searchable database - over 80,000 trees listed and updated regularly. Provides details on the definitive champion trees, the tallest and largest of their species, by county, country and for all Britain and Ireland.
Latest news! You will receive a Summer and a Winter e-news letter
Receive by post our annual newsletter with reports from the regions and information on record breaking and historic trees.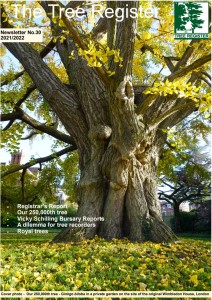 Invited to our biennial lecture and rare plant auction.
Be amongst the first to hear of new champion trees and how to find those growing in places with public access.
If you are already a member please login
here