The Tree Register of The British Isles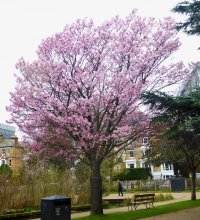 The Tree Register is a charity registered as the The Tree Register of the British Isles, whilst often referred to as The Tree Register of Britain and Ireland, or simply by its acronym TROBI.
The Register is a unique database of over 200,000 of our most notable trees, recording our wonderful tree heritage and home to the definitive list of champion trees.
CHAMPION TREES are the tallest and fattest of their type and the database of 69,000+ champion trees is available online to members.
The Tree Register has no paid staff and is run solely by volunteers. The membership scheme is a valuable source of income to support the website and costs incurred curating and updating the Register.
You can Join The Tree Register of The British Isles for just £18.00 (ONLY £15.00 if you join by Bankers Order!) and not only will you play a direct part in supporting our work, for both the enjoyment and the serious study of Trees in Britain and Ireland, you will also enjoy other benefits.
The Tree Register is a founder Member of the European Champion Tree Forum
We hope you enjoy your visit to our website!