Tree of the Month - June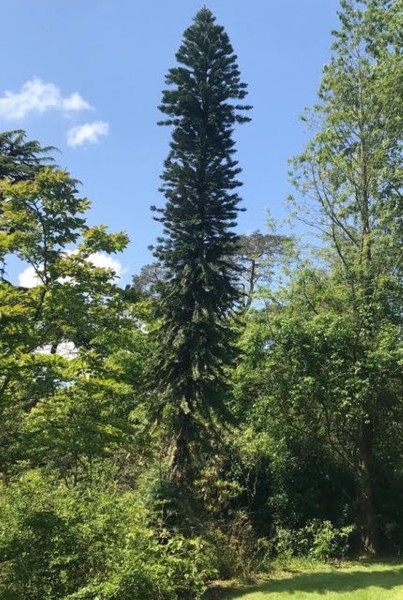 The Wollemi Pine, Wollemia nobilis, was only discovered in a remote gorge in Australia in 1994 and has only been in cultivation in the west for about 18 years. During this time it has proved its worth as the only Australian conifer that performs at all well with us, as well as a tree that should be grown for ex-situ conservation. With plenty of thriving youngsters in varying micro-climates around Britain and Ireland, competition for who has the champion Wollemia is likely to become tough; it's not yet clear what conditions will best suit the species' long-term performance, and until now the biggest have been the first ones planted, in major botanic gardens such as Kew, Castlewellan and Wakehurst Place.
This new contender, 11.4m tall and with a girth of 75cm, was recorded this June by volunteer measurer Hugo Egleston at Hinton Park, Hinton Admiral, in the south-west corner of Hampshire. This large historic garden has been restored over the last two decades and now sometimes opens for the National Garden Scheme.
Photo by Hugo Egleston.