Aidan Champion, the youngest of Britain's volunteer tree measurers, has lived up to his name and recorded a record Eucalyptus dalrympleana on the Wintershall Manor estate in Surrey, 481 cm girth. In Cardiff, Anne Bell has been studying the rare plantings in Cathays Cemetery, yet another of this city's sites of dendrological interest, and has found five new champions, including an example of a beech cultivar ('Purpurea Tortuosa') that was feared extinct in cultivation. All these Cardiff trees can be explored on Anne and her husbands' fascinating website, http://www.cardiffparks.org.uk/index.htm.

Alan Hunton and John Killingbeck have been busy in Yorkshire and Lancashire, finding new record trees at familiar places such as the Harlow Carr Botanical Gardens and the Castle Howard estate, and measuring for the first time at gardens including Parcevall Hall high in the Yorkshire Dales, and Ingleborough Hall which used to be the home of the plant hunter Reginald Farrer; one remarkable tree surviving here is a multi-stemmed Carpinus turczaninowii collected by Farrer in China in 1914 and last noted nearly 90 years ago.

Ron Kemeny has updated the champions of Leonardslee gardens in West Sussex – open to the public again now – whose tally has risen to 28. Ron's other finds, from this well-studied corner of the country, include new champions for the graceful flowering cherry Prunus x yedoensis 'Tsubame' at Ashurst Wood Primary School and the rare maple Acer pseudosieboldianum on the Michael Fields estate in Forest Row. John Weightman has finished his vast survey of John Ravenscroft's private Cherry Tree Arboretum in Shropshire, and has also found new record-holders for Smoke-bush (Cotinus coggygria) in Chipping Campden and for Drimys winteri var. andina at Corsewall House in the very far south-west of Scotland.

Russell Miller reports a new champion for the now-scarce hawthorn hybrid X Crataemespilus grandiflora, 190 cm in girth, at Trinity Gardens in north London, and Nick Macer has measured a record Pink Siris (Albizia julibrissin) in the walled garden at Kingston Bagpuize in Oxfordshire, 9 m tall.

The staff at RHS Wisley have pushed their garden's tally of champions to exactly a hundred, while the inevitable haul of new champions from the Sir Harold Hillier Gardens includes the Catalina Ironwood (Lyonothamnus floribundus subsp. aspleniifolius) by the lawn of Jermyns House, a remarkable 18 m tall.

After a visit from David Alderman, the Tree Register's Trustee, Roy Lancaster, now has five national champion trees in his suburban garden in Chandler's Ford, including the elegant laurel Nothaphoebe cavalieri, planted in 1996 and already 15 m tall. His 7 m plant of the Australian Lomatia fraseri was a sixth champion for a few weeks, until John Killingbeck happened to measure a slightly taller one at Gresgarth Hall, the Lancashire garden of our Trustee, Lady Arabella Lennox-Boyd.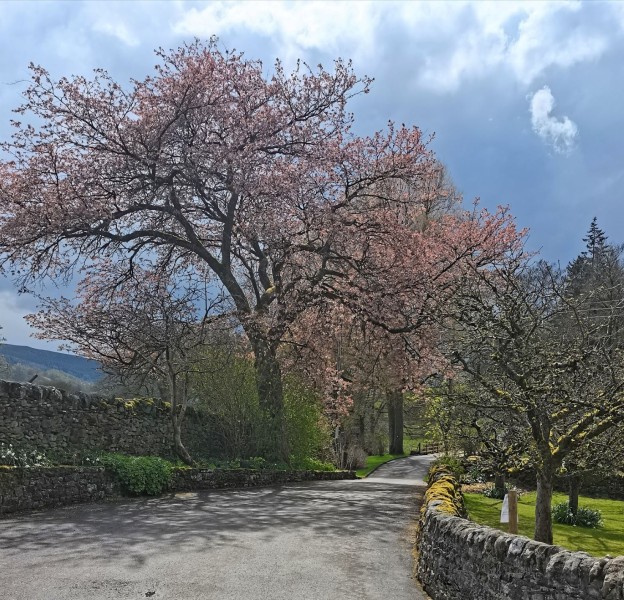 (Image above) a new English champion for Mountain Cherry (Prunus jamasakura) at Parcevall Hall among the Yorkshire Dales, as measured by Alan Hunton and John Killingbeck. (Image by Parcevall Hall Gardens)