A series of photos, from the archives. A reminder of just a few of the remarkable trees to be found throughout Britain and Ireland that most of us will be missing this year due to the COVID-19 restrictions.
Champion Sapphire Dragon Tree, Kew Gardens
This is Paulownia kawakamii, introduced to the UK from Taiwan by Tree Register Trustee Tony Kirkham and Mark Flanagan in 1992. It is critically endangered and is on the IUCN Red List of Threatened Species. It is a very rare tree in its natural habitat in Taiwan where there were only 13 trees left in the wild in 1992. Tony describes it as "one of the most flamboyant of the foxglove trees with sweet smelling violet coloured flower spikes up to 1m tall". The tree begins to flower before the leaves appear.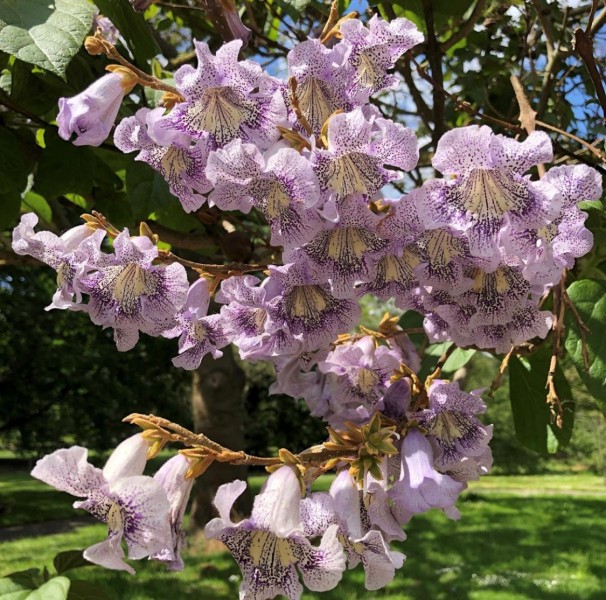 Planted by the Water Lily House in Kew Gardens in 1995 the tree is now 13m tall and has a trunk circumference of 1.85m. It is the largest of all those propagated from the 1992 seed collection.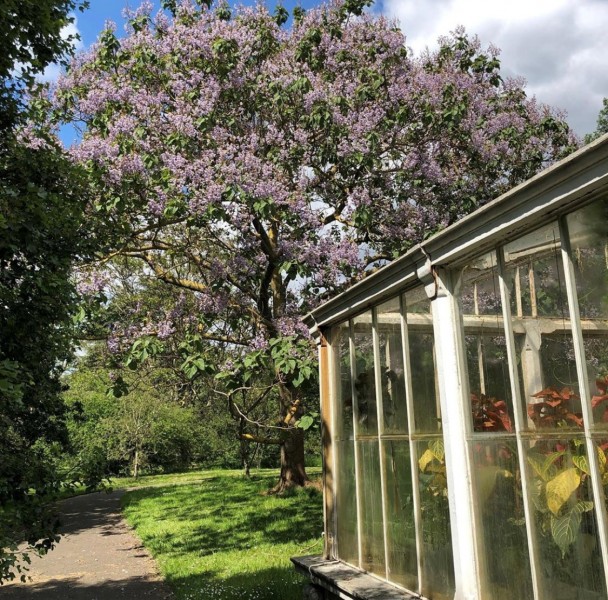 Photos courtesy of Tony Kirkham MBE VMH
Ancient yew at Itchen Abbots, Hampshire
The ancient yew in the churchyard of St John the Baptist, Itchen Abbas, Hampshire, is one of 30 trees with a circumference of 7m or more in this county in southern England, most of which are also in churchyards. The current church at Itchen Abbas is Victorian, built on the site of a Norman church, which may itself have been built on the site of an earlier Saxon church. Inside there is a record of Church Rectors going back to 1280. The yew tree is growing more rapidly inside itself than out, with examples of internal roots becoming stems within its hollow trunk. Beneath its spreading branches is the 1825 grave of John Hughes aged 26, the last man to be hung for horse stealing in England.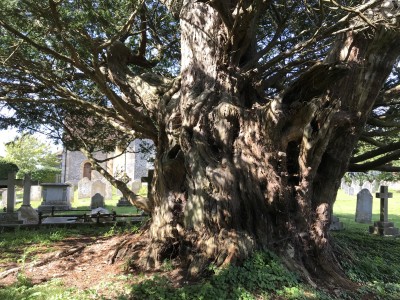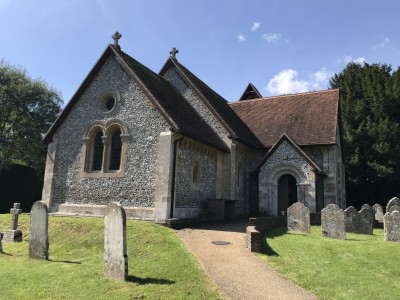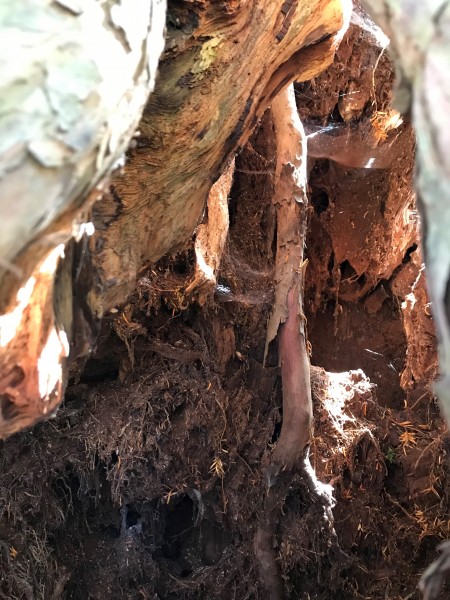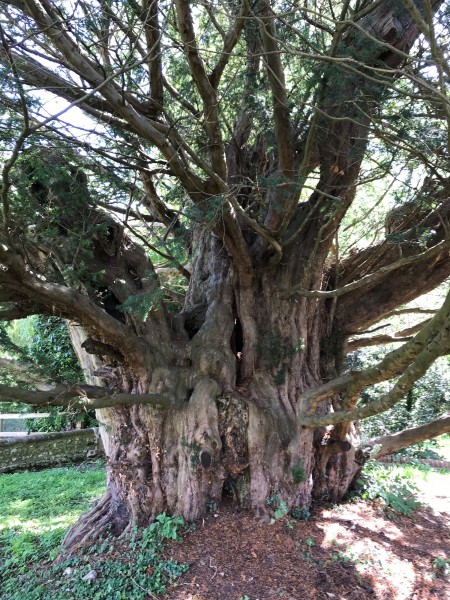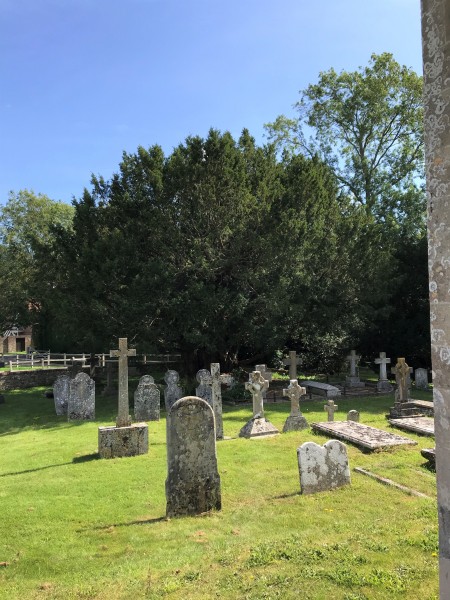 Acer pseudoplatanus 'Corstorphinense' the Corstorphine Plane
A sycamore that has bright yellow emerging leaves remaining a bright colour sometimes into June, before fading to green.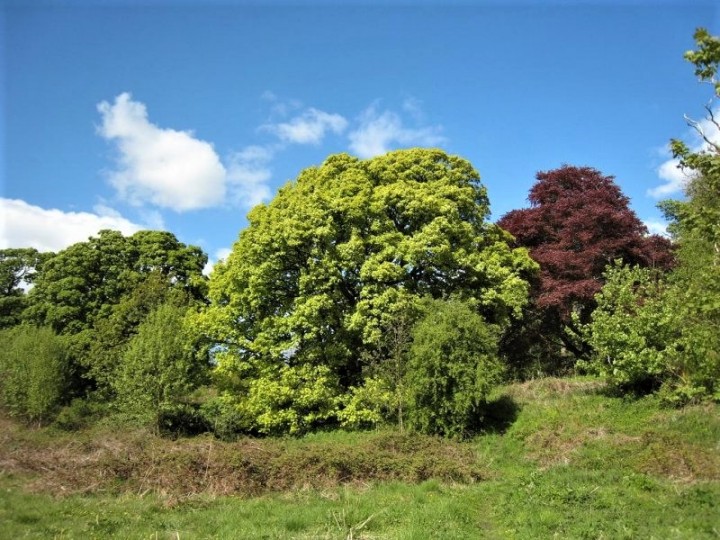 The original 'Corstorphine Plane' in Dovecot Road, Corstorphine village (now a suburb of Edinburgh) was shattered in the Boxing Day storm of 1998. The tree was thought to be over 500 years and the scene of the murder of Lord Forrester by his first wife's sister in 1679. She was later executed for this deed and the tree was then said to be haunted by their ghosts.
Genuine 'Corstorphinense' will have originated from this tree but it is possible that some, like the joint champion at Craigflower House, in Fife (image above and below), may have arisen as independent golden sports.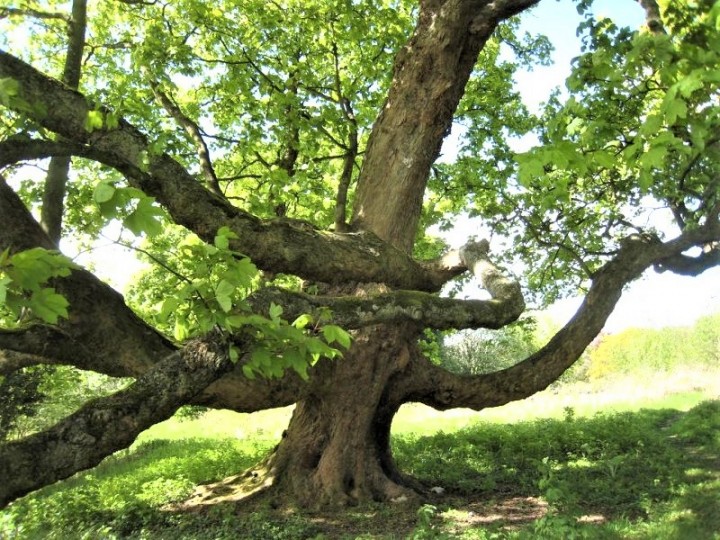 Above - the Craigflower House champion with a circumference of 4.65m when last measured.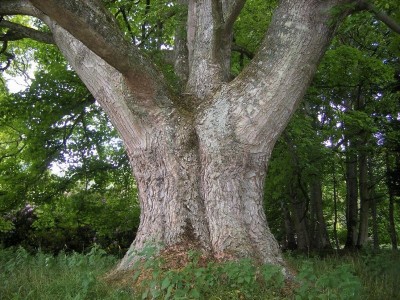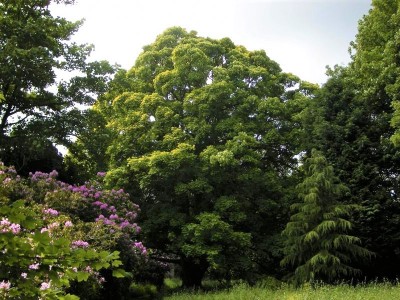 Above - the joint champion tree at Moncrieff House, Perth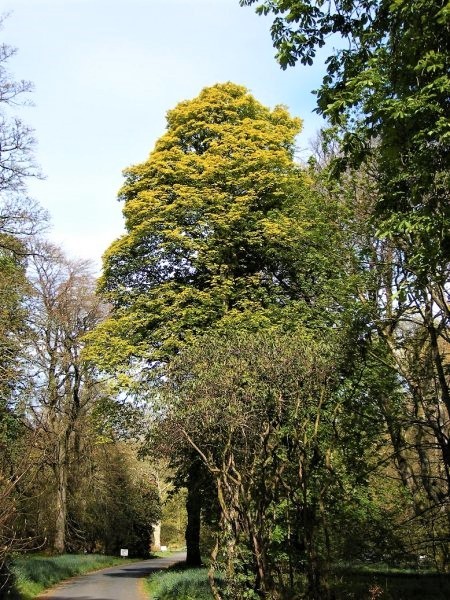 Above - the tallest Corstorphine Plane is this tree at 25m on the Bargany estate in South Ayrshire.
Prunus avium on the Thorp Perrow estate, North Yorkshire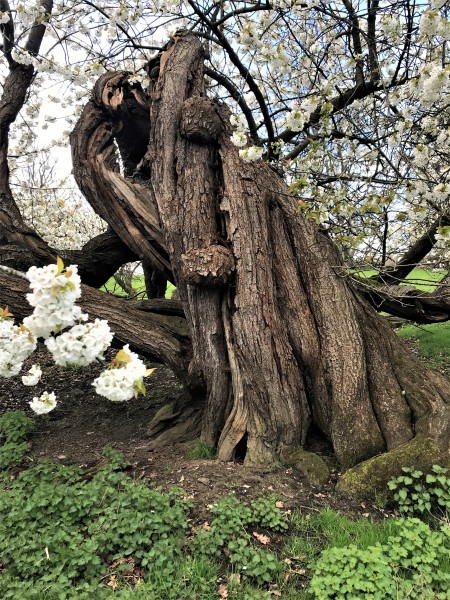 This ancient wild cherry, or gean, (Prunus avium) on the Thorp Perrow estate, North Yorkshire, is almost 5.5m in circumference. It is only beaten in size by one other, not far away, at Studley Royal, which was only surviving with one live branch when last seen. Almost all of the biggest wild cherry can be found in the north of England or Scotland.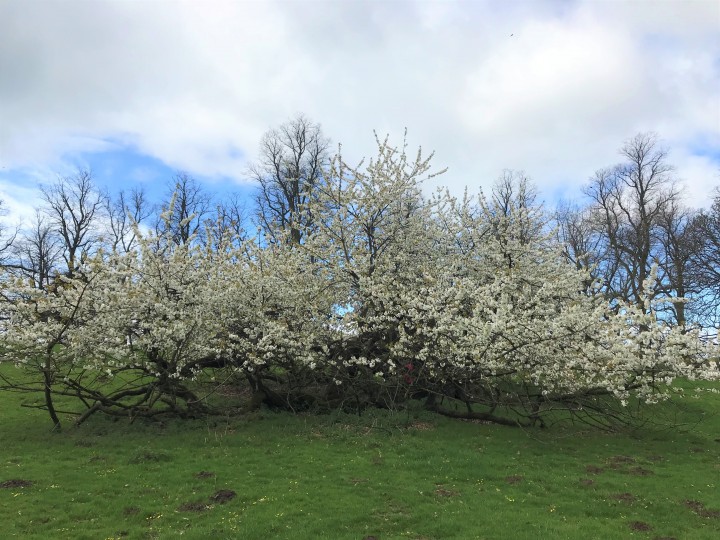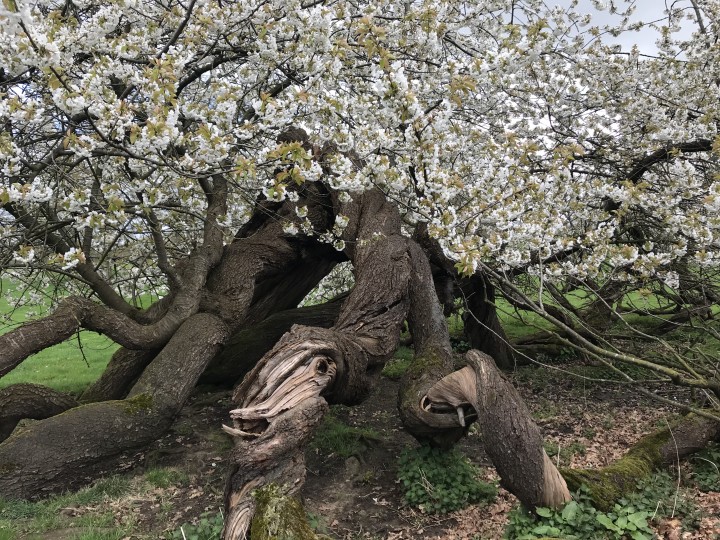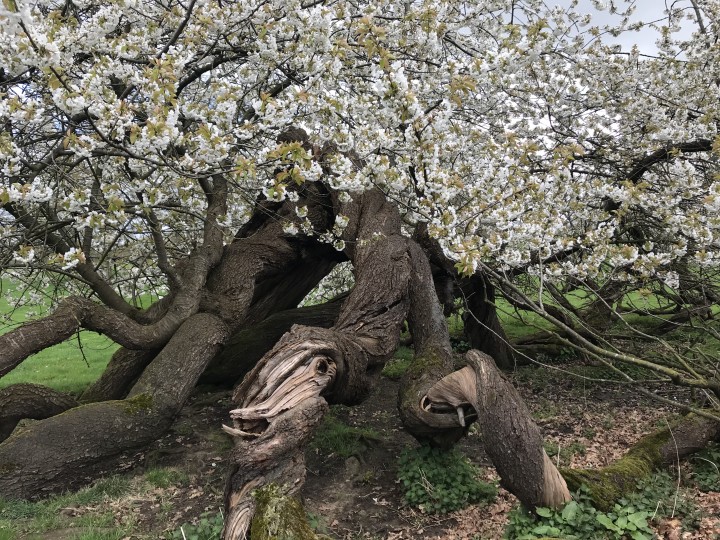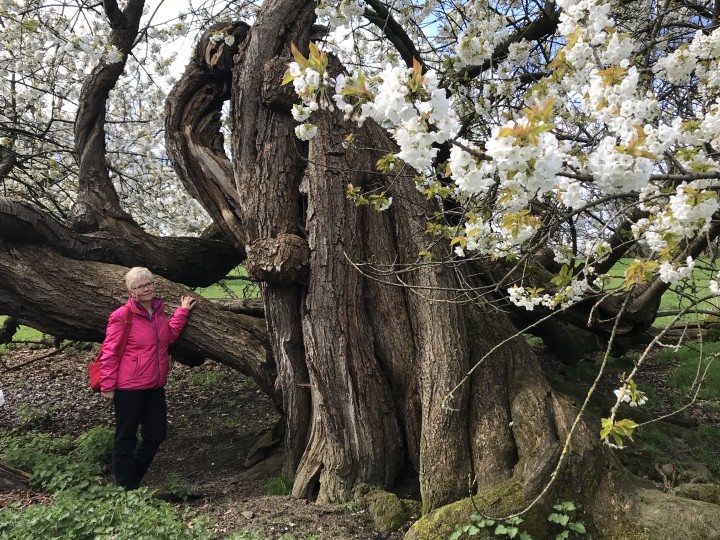 Prunus 'Taoyame' in Crawley, West Sussex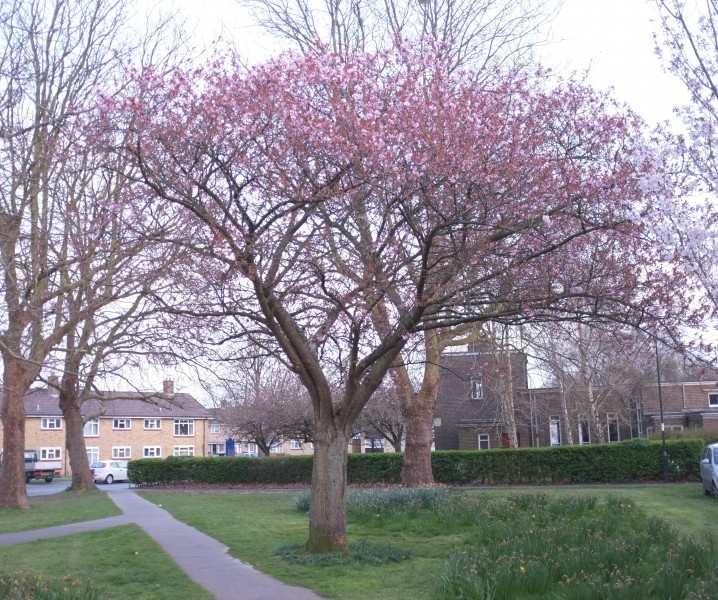 Here's the champion Prunus 'Taoyame' in Crawley, West Sussex. Along with his discovery, 'Tai Haku', 'Taoyame' was the favourite cherry of Collingwood Ingram, who popularised the Japanese Cherries in the west, but it remains rare. This example is one of many imaginative plantings around the 1950s New Town (corner of Titmus Drive and Ashdown Drive, Tilgate; last seen in 2014).
Prunus 'Ito-kukuri'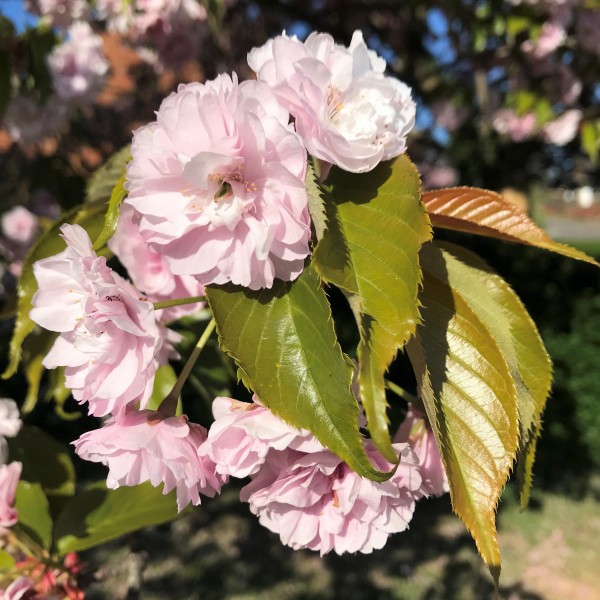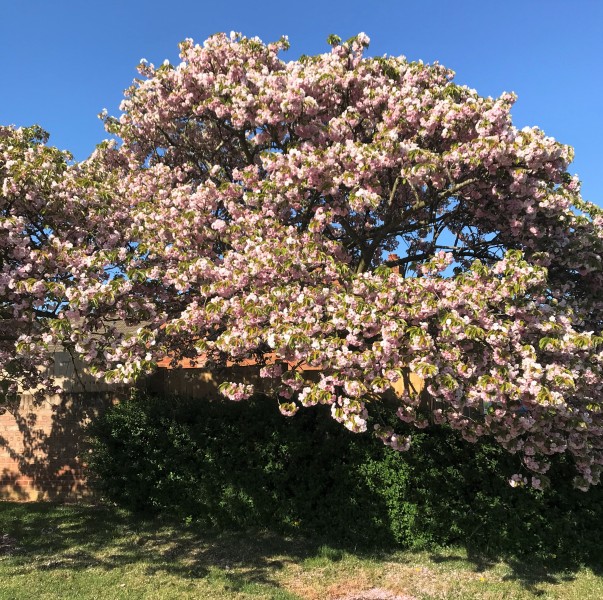 Prunus 'Ito-kukuri' is apparently rare but may be more frequent than we realise? It opens a week or more before Prunus 'Kanzan' with much softer pink flowers and maintains a neatly rounded crown. So few are recorded that if you have one it is likely to be a champion!
Amelanchier lamarckii - the Snowy Mespil
If you are hoping to discover a champion tree during the lockdown, now is the time to spot a supersized Amelanchier lamarckii on your daily exercise walk. A large shrub or small tree from North America called the Snowy Mespil or Juneberry, they are now in full flower and so easy to spot. To ensure growing a tree sized plant many have been top-grafted and it is often the species of the rootstock that determines how big the tree becomes.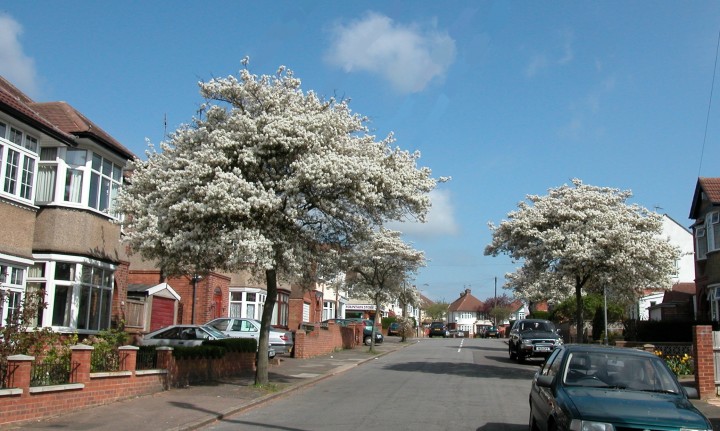 Here is a suburban planting of Amelanchier lamarckii on its own rootstock.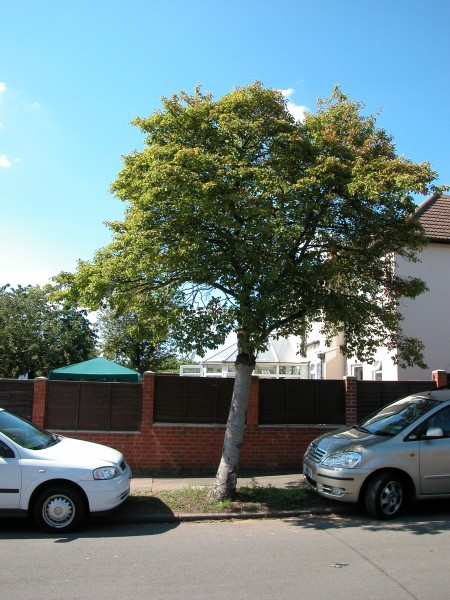 This street tree is top grafted onto rowan (Sorbus aucuparia)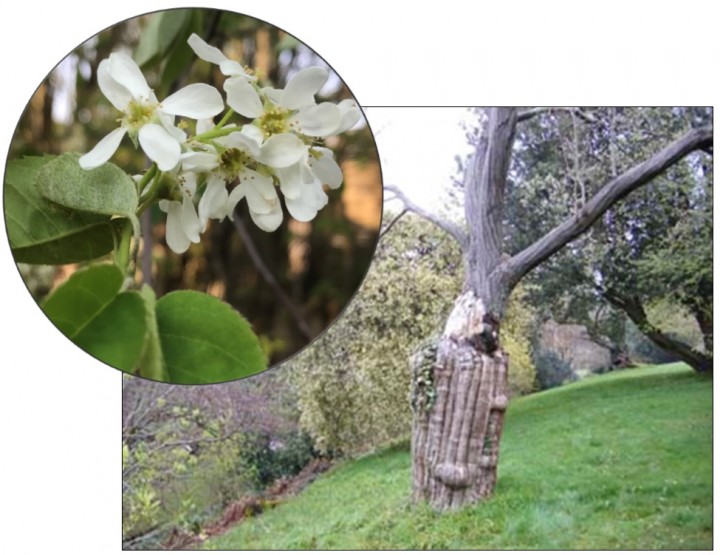 The largest Amelanchier lamarckii ever recorded is this tree at Tyntesfield, Somerset. Grafted onto hawthorn (Crataegus monogyna) which makes up its 2.65m girth.


Notable trees will be those over 75cm in trunk girth and 6m or more in height so keep your eyes open, or measure the tree in your garden….you may be the owner of a champion tree!
Prunus 'Accolade' in De Quincey Park, Timperley, Cheshire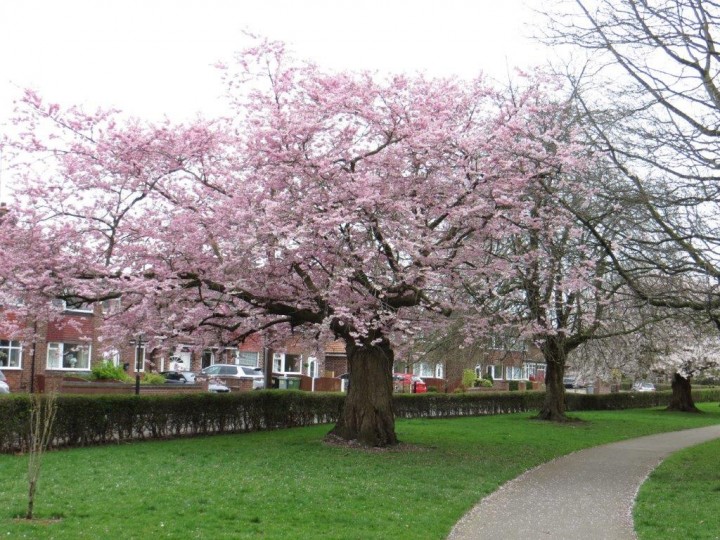 This is the current British champion for girth at nearly 3m around its top grafted wild cherry rootstock. It usually flowers early (mid-late Feb) and at its best in early March, with attractive mid-pink semi double flowers amid a rather unkempt collection of branches.
De Quincey park is a small municipal park (mercifully still open in this dire period) alongside one of the busiest roads in the North west of England if not in the country. This is the A56 which runs between Manchester and Chester and was formerly Watling Street. The old turnpike is situated close to the entrance to the park. Despite its proximity to the road and its inevitable pollution the park and its trees have thrived and supports 3 Cheshire champion trees.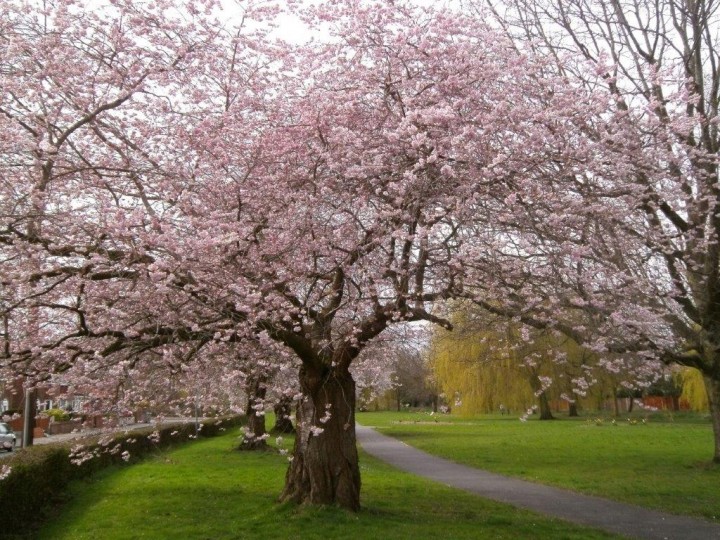 This photo was taken on 8th April 2016, a year when Spring clearly came later.
Photos and text supplied by Tree Register Member John Weightman